Max and I bought a house 3,000 miles away from where we are living. The commute is wildly impractical but if you know me that shouldn't surprise you. Were we planning to invest? Not really. Had I been looking? Obsessively.
For months, Max was on the receiving end of a deluge of real estate listings. Their location ranged from central California to coastal New England. I was far down the black-hole-that-is-Zillow when I found it. A cedar clad Maine cottage on Vinalhaven Island. Unbeknownst to me, Max's grandmother, Ernestine Carver, was raised on Vinalhaven. When we found out the seller was the last remaining Carver on island, it felt like kismet.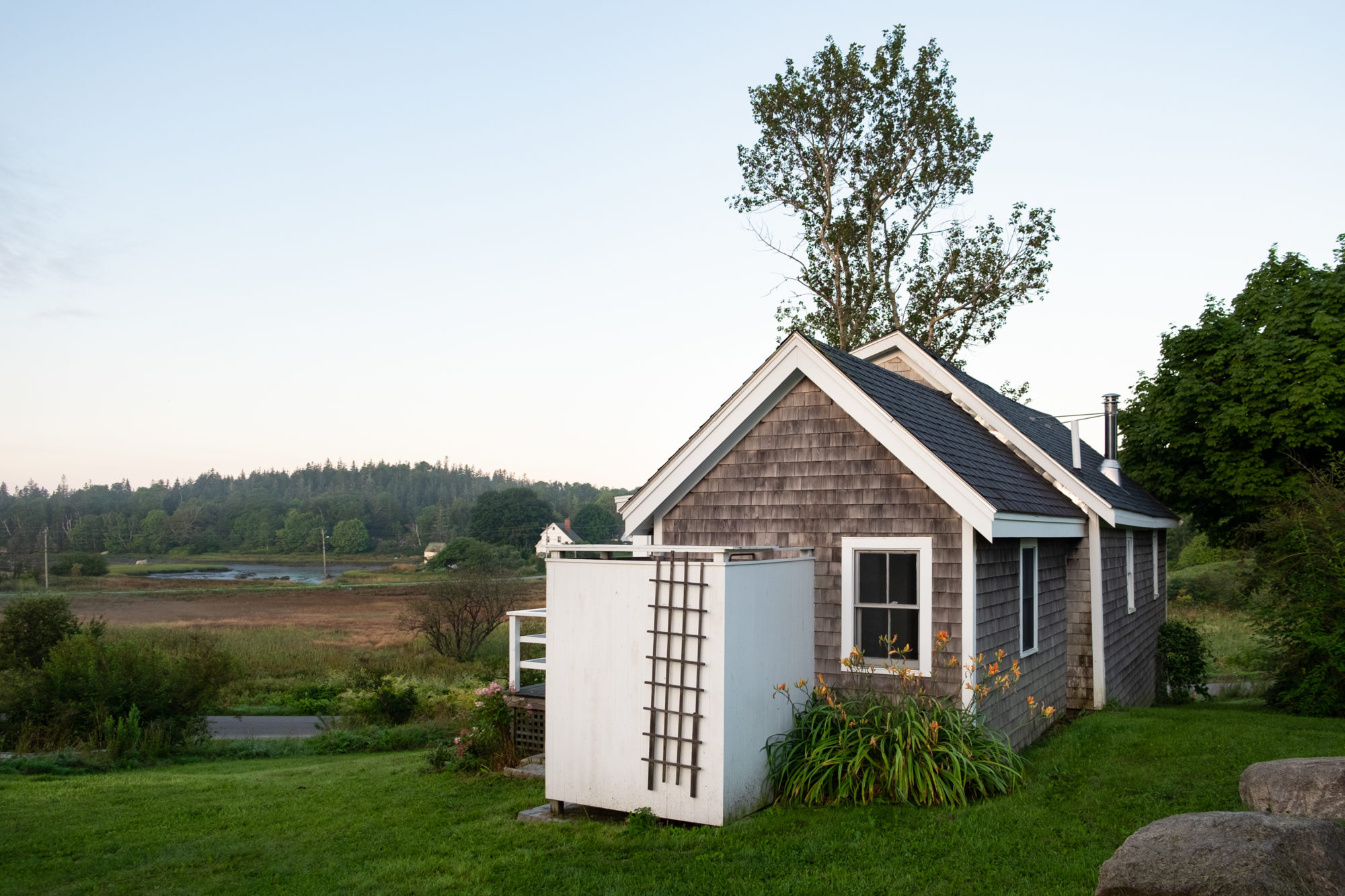 Built in the 1840's, the house, known as Stony Lonesome, is described as "three seasons but previously used year round." The Vermonter in me took that as a challenge — though it is unlikely Max and I will attempt winter's bitter isolation on-island. During the summer, the ferry stops running at 4.30p and come winter, at 3.15p. It restricts off-island trips and requires careful planning but it is also what keeps the island from being crowded by tourists.
If looks are deceiving, this property would be the poster child. From this vantage, the house looks larger than it is. The real estate listing put it at 900sqft, but I'm not sure what they counted. The door on the left opens to the basement laundry (which turns out is busted — and yes, we found that out once we had no clean clothes left and had poured soap on the entire load. Thank goodness for bath tubs that work in a pinch). The basement has three full size windows making it a likely candidate for a ceramic studio once I get my act together and convince the resident spiders to relocate.
The highest level of craftsmanship is seen right here in the outdoor shower. Seriously. Max and I both agree it's our favorite part of the house. When I return in October, I'm absolutely going to use it, regardless of the temperature outside. Mark my word!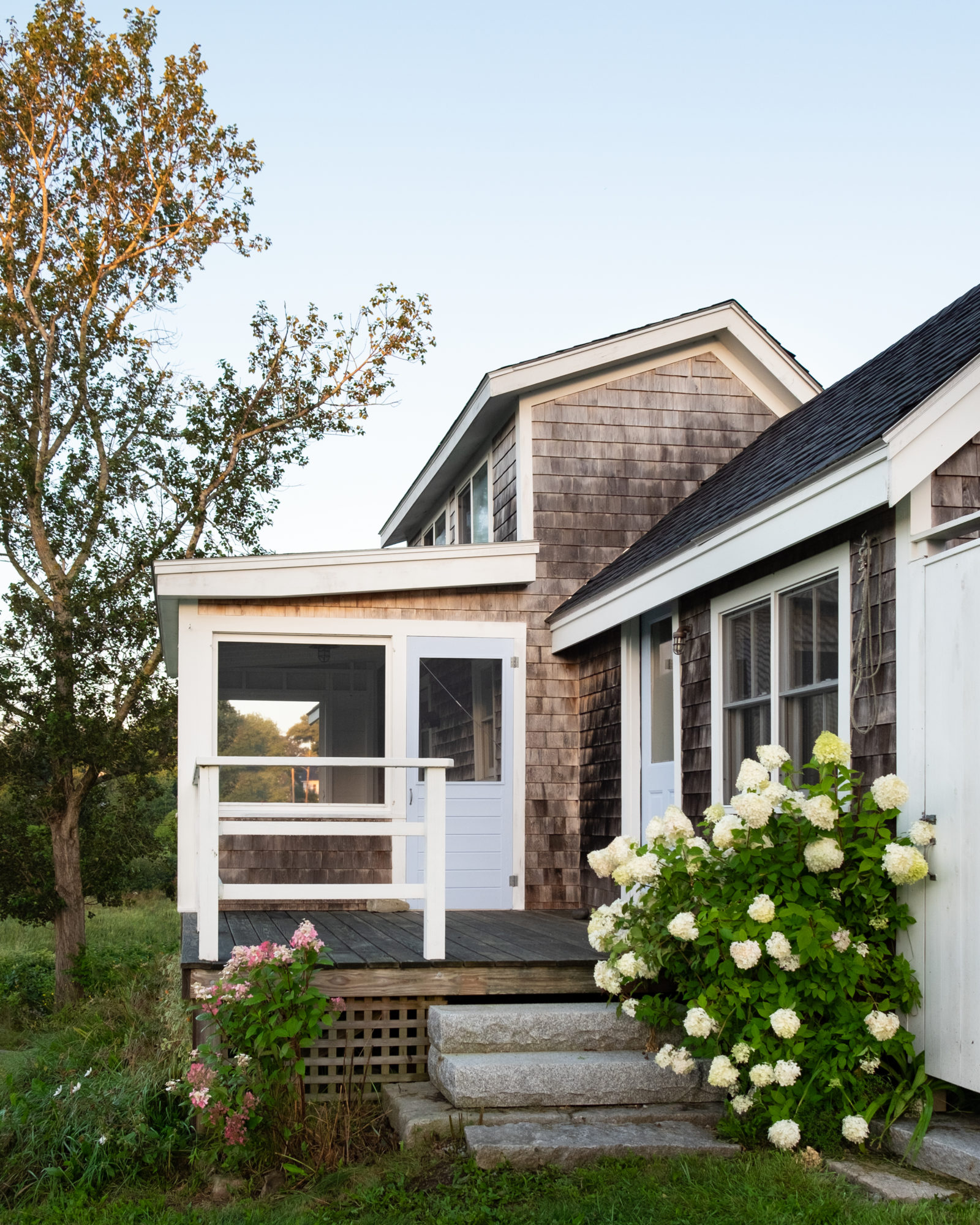 When we first arrived, my parents visited for a night. I had grand plans as to how much we would get done, but we hardly touched my to-do list. Instead, they worked through all the unforeseen projects that come with buying a new home. My parents patched a hole in the stone foundation, organized the basement, landscaped and dug up weeds. They took countless trips to the hardware store, reinforced the indoor "ladder" (aka stairs that aren't to code), painted our doors a shade of periwinkle (Blue Ice by Benjamin Moore), and most importantly? Offered reassurance to Max and I who found ourselves exhausted from jet lag and on the rollercoaster that is new homeownership coupled with high expectations. Thanks, Mom & Dad!
The screened porch is a recent addition to the house. Next year I hope to add built-in seating and possibly invest in windows to keep it dry during rainstorms .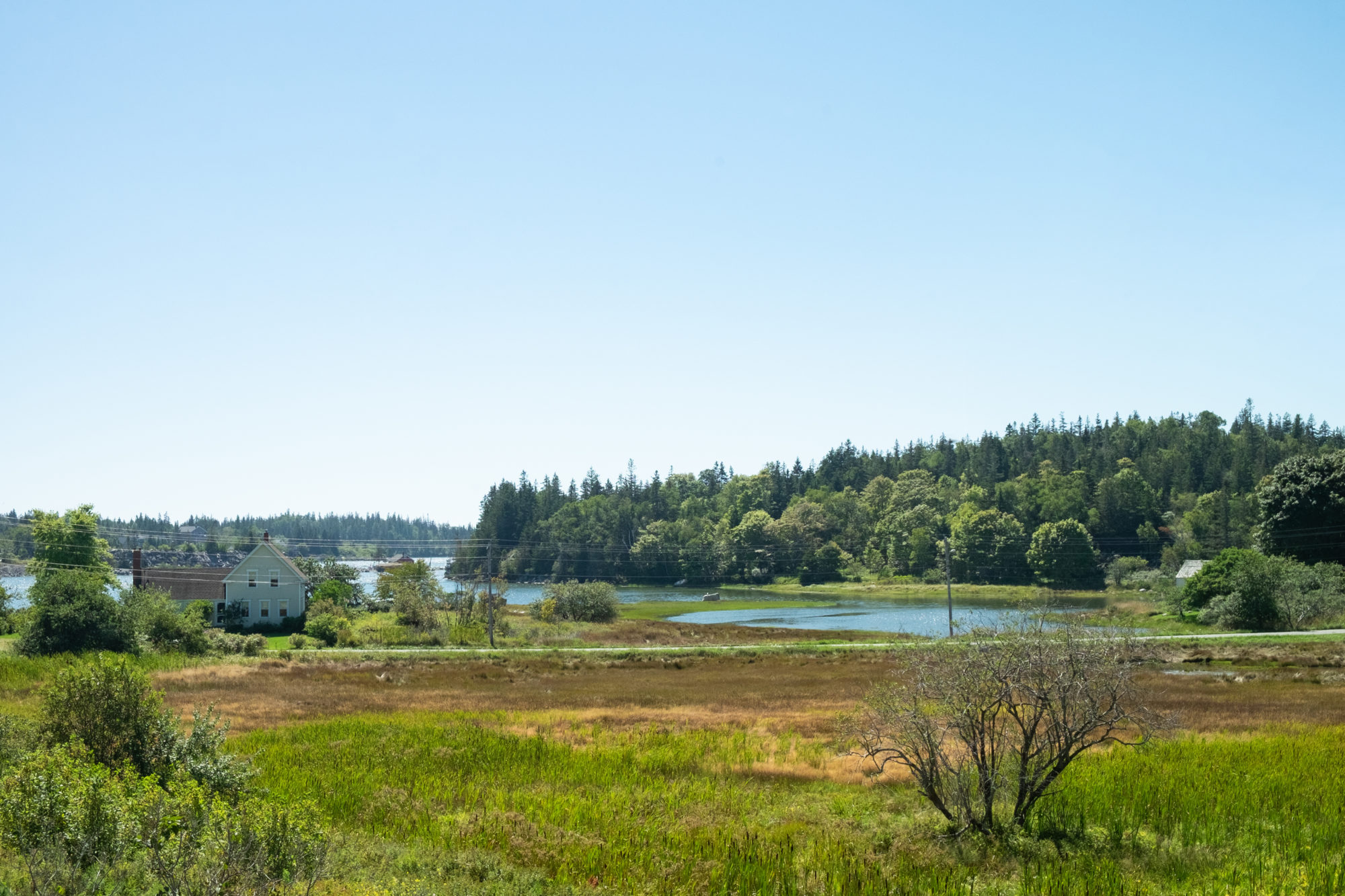 The porch looks out onto an ocean inlet and marshland that was once the island's baseball field. A 1935 newspaper article described how the ball field was built in 1902 and offers a classic example of how poor conditions were thanks to high tide. "This player, whose name is forgotten, vividly described a baseball game he played on the old Vinalhaven ball field after a high course of tides had flooded it. According to his story, sea weed grew so luxuriantly around the bases that he had hard work to get their exact location, clams continually bothered him by squirting water in his eyes, and he claimed that part of the regulation uniform of the Vinalhaven team was a pair of long legged rubber boots." Eventually they got their act together and for decades it was a great recreational field that was an off-season ice skating rink.
Right off of the screened porch is the kitchen, which opens up to the living room. The four cabinets you see on the left are the only closed storage in the entire house.
The kitchen is somewhere on my to-do list, with plans to renovate so to better utilize the square footage. The sink is massive, the oven larger than necessary, and the fridge sits awkwardly on a wall next to the wood stove. I find drawers more practical than cabinets so I'd definitely incorporate different cabinetry. My mom is a strong advocate to leave it as-is, since it IS charming, but we will see. Our non-existent budget means she will win out, for now.
The old scale was in the basement along with relics from owners' past. The upper shelves were yellow but on our second-to-last day on-island, I decided to slap on a coat of white primer. Max managed another coat before we ran out of daylight (and patience). While it could use another, it is perfectly imperfect in its current state which seems to suits the cottage.
The wood stove separates the living room from the kitchen. To the right of it is the behemoth refrigerator I couldn't bring myself to show you. But know it is standing there, beckoning a kitchen remodel. The alternative solution to a full remodel is to get a mini fridge or refrigerator drawers and install them under this island of sorts. I'm not sure we have the depth to accommodate that but it could be a viable option.
I love the old beams in the living room. We plan to paint the ceiling boards and walls white but leave the beams untouched. The previous owner left us the sofa, tables, and an old typewriter we found in the basement. I brought along the pillow, blanket, and rug in my luggage. You know, priorities.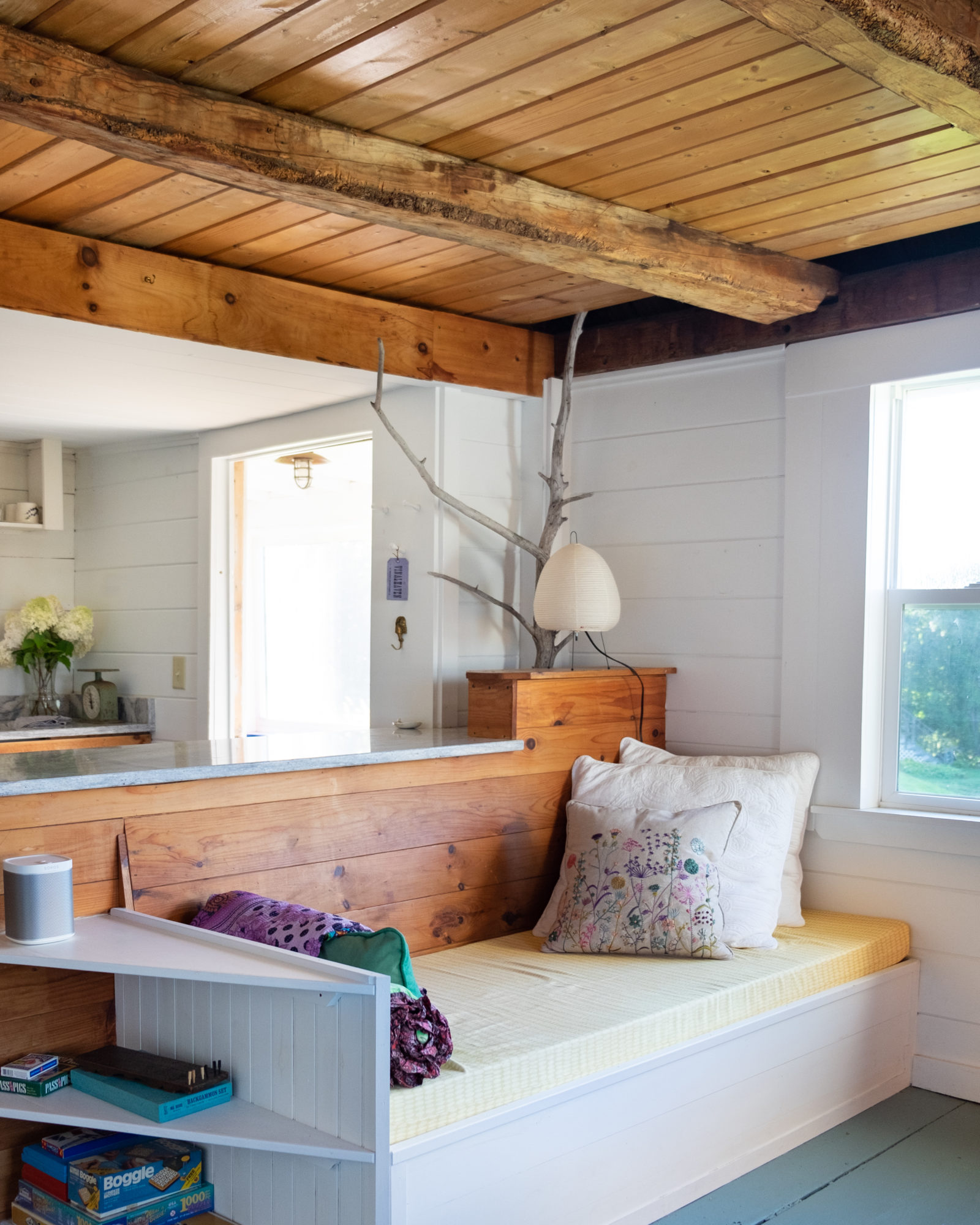 Other necessities were an old cribbage board, Pass the Pigs, and backgammon– which I just learned to play. The house has no overhead fixtures so we brought along Noguchi lamps, as well.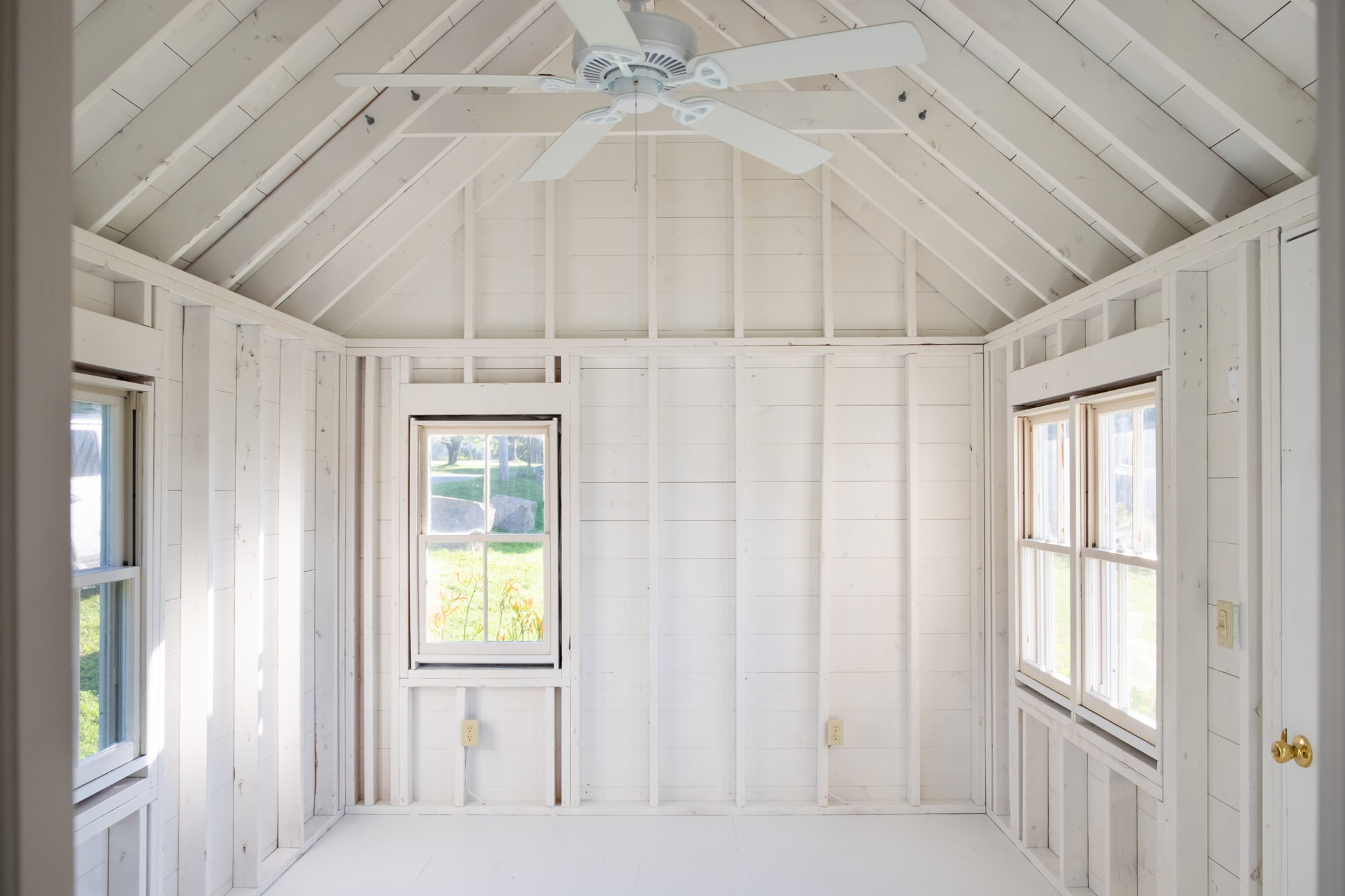 Off of the kitchen is the master bedroom which was added on in the 2000s. For us it will function as my art studio. When I return in October, I plan to build simple daybeds so it can also function as a space for guests.
Max and I spray painted the room (floor to ceiling) with two coats of white primer. I thought we would have the entire house painted in the week we were on-island but THAT did not happen. Who knew painting is such a pain in the ass? If anyone enjoys it and wants to visit next summer in exchange for a coat of paint, let me know.
The bathroom is tiny and has a charming clawfoot bathtub. Since it is set up on legs and the ceiling is quite low, Max has to crouch to shower. Because of this, I took down the curtain and have decided the options are to either draw a bath indoors or shower outdoors. Just call me Emily "Practical" Billings.
The ladder leads upstairs to the sleeping loft. When we moved in, there was nothing supporting the bottom three steps and they were beginning to crack and bend when you walked on them. Thankfully, they were easy to reinforce and no one fell through them in the day prior to the fix.
The front half of the upstairs loft is dormered, allowing for full size windows and a bit more ceiling height. Max is able to walk upright in this section (I think?). The previous owner had a twin size bed on the left by the windows. We might do the same or may set up a reading / board game nook. On the right hand side I plan to add storage; whether a dresser or built-in shelving. Somehow we managed to buy a house without a single closet or drawer. I don't plan to add too much storage but some will be useful.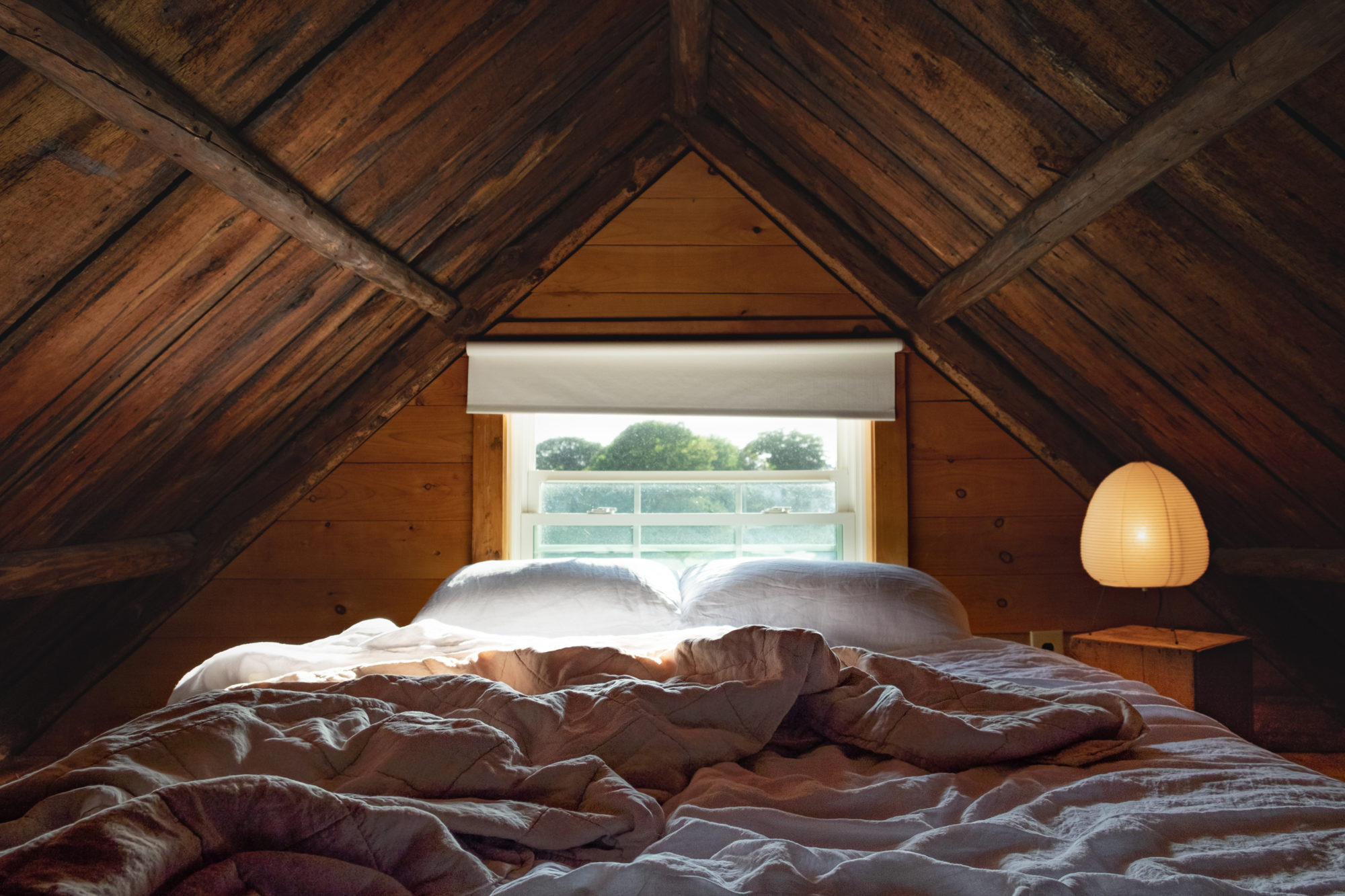 The back part of the sleeping loft has old growth log beams that date back to the 1800s. It was described as storage space but when we toured the house Max and I knew it would be our bedroom. The cozy nook reminds us of our Woodside A-frame. The windows allow for a nice breeze that takes off the weight of warm summer nights. During the winter, it will be the warmest part of the house, directly above the wood stove.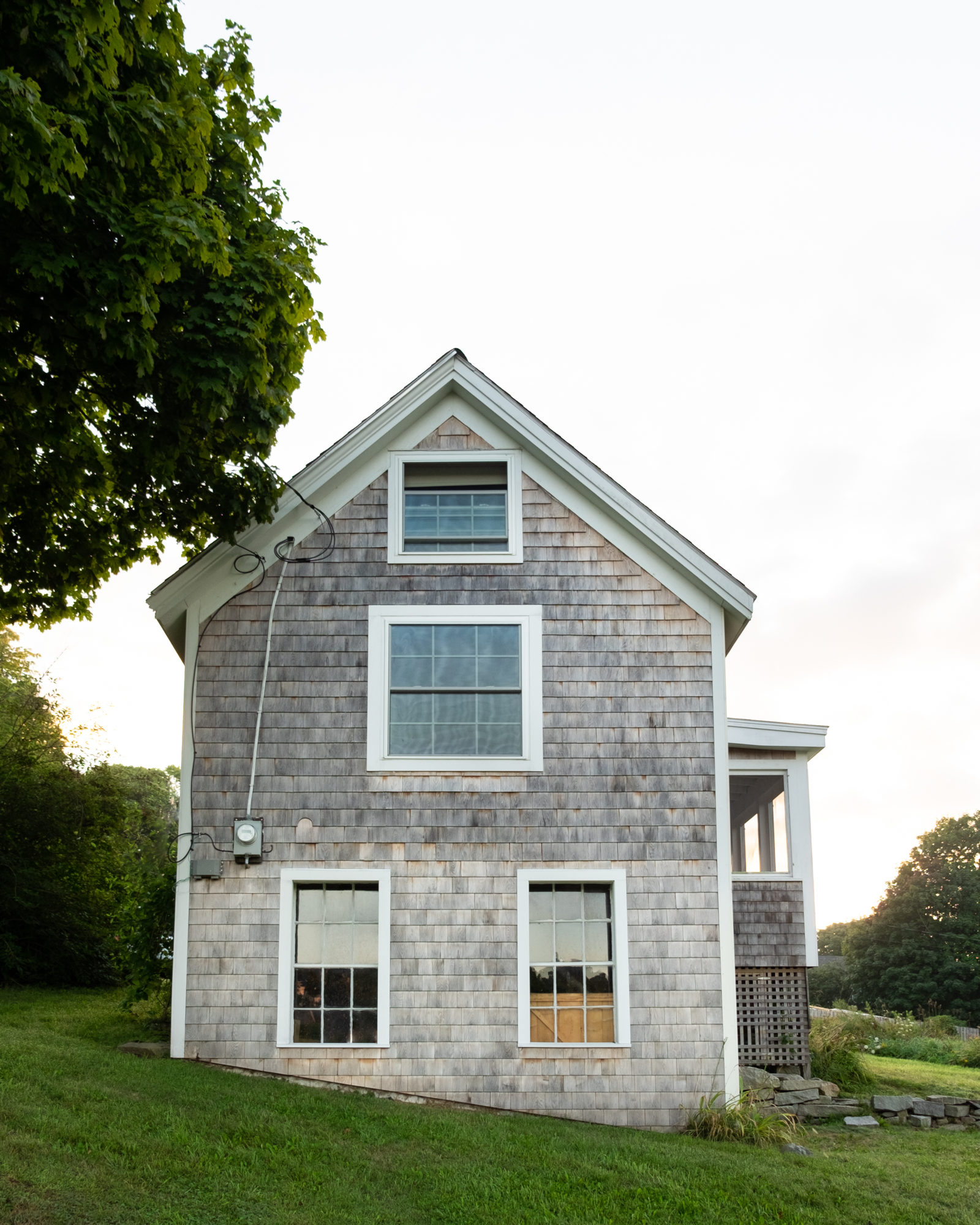 Vinalhaven Island is a tight-knit community. Everyone waves when you drive by and people are quick to ask for an introduction if they don't know you. The hardware store employee said his cousin used to rent Stony Lonesome and when we went to the dump, we met a man who's grandmother lived in the house year round at one point. It's a small world and one we're excited to spend time exploring in the coming years. Can't wait to share the process as we begin to furnish the space and make it our own.