An hour south of San Francisco, just off of Highway 1, sits a surprisingly charming oceanside town. Pescadero, population 650, has built a name for itself; surrounded by working farms, sweeping coastal views, world-renowned artichoke bread, and other culinary treats. With high praise coming from Max's coworkers, we went for Olallieberry pie and promptly decided to make a day of it. I've rounded up a list of recommendations for what has to be one of the best kept secrets along California's slow coast. This blip of a town can be experienced in under an hour or savored for an entire weekend.
Downtown Local
Finding a cafe that caters to one's morning caffeine ritual is usually a good place to start. Enter Downtown Local. Serving up Sightglass Coffee, they also offer a variety of vintage and local specialty goods. Maybe most surprising is the theatre tucked in the back, which seats about a dozen and plays black and white films on repeat. It is a popular pit stop amongst locals, bicyclists, and visitors alike. Max and I walked away with a cold brew, a hand painted postcard, and a sampling of the yummiest smelling bergamot and ginger lotion from San Francisco's Etta and Billie.
duarte's Tavern
The impetus for our whole trip was the olallieberry pie from  Duarte's Tavern that Max's coworkers swear by. In a two block town that is lacking in sit-down restaurants, this family joint is both a tourist trap and institution. Established in 1894, it is a James Beard Award winning American Classic Restaurant. Their fare consists of local catch-of-the-day meals and a tavern menu of simple dishes made with ingredients from their backyard farm. The celebrated artichoke soup is so popular you can no longer order it to go, due to a local 'choke shortage. But! Pies are available for the taking, which is what we did, ordering one olallieberry pie for the road. Olallieberry is a California phenomenon: somewhere between a raspberry and a blackberry mixed with the tartness of rhubarb. The pie was freshly baked decadence and I highly recommend having it alongside a healthy scoop of vanilla ice-cream.
the pescadero flowery
Continuing through Pescadero's downtown, you'll find a few Stage Road antique shops worth popping into if they happen to be open. Right before you hit the grocers, you'll find Slowcoast and Shuman Pottery. Tucked behind these shops is The Pescadero Flowery. Be sure to stop by in the summer months for pick-your-own dahlias!
Arcangeli Grocery co.
Established almost 90 years ago, the family-run Arcangeli Grocery Co. is perfect for picnic prep. The bakery is known for its fresh (and I mean FRESH) out-of-the-oven artichoke garlic herb loaves. If you purchase anything in Pescadero, it needs to be this. New batches are baked by the half, maybe even quarter, hour. If the bread baskets are bare, take a moment to browse their gourmet pasta sauces, dressings, salsas, spreads, and dips. You'll be hard pressed not to tear into your warm loaf immediately. Give in to your temptations and it's loaf at first bite.
harley farms
Reaching the end of Pescadero's downtown, take North Street for a half mile where you'll find Harley Farms, an award-winning goat dairy. After visiting the goat pens, head into the Goat Shop for cheese tasting. Among the honey-lavender chèvre and apricot-pecan rounds you'll find their "Van Goat," which is artistically decorated with edible flowers.  A highlight is their wildly flavorful (but hot!) habanero pepper jelly. If planning an evening trip, be sure to attend a farm dinner hosted in the barn's attic space. They are sold out for 2018 but tickets for the 2019 season go on sale in November.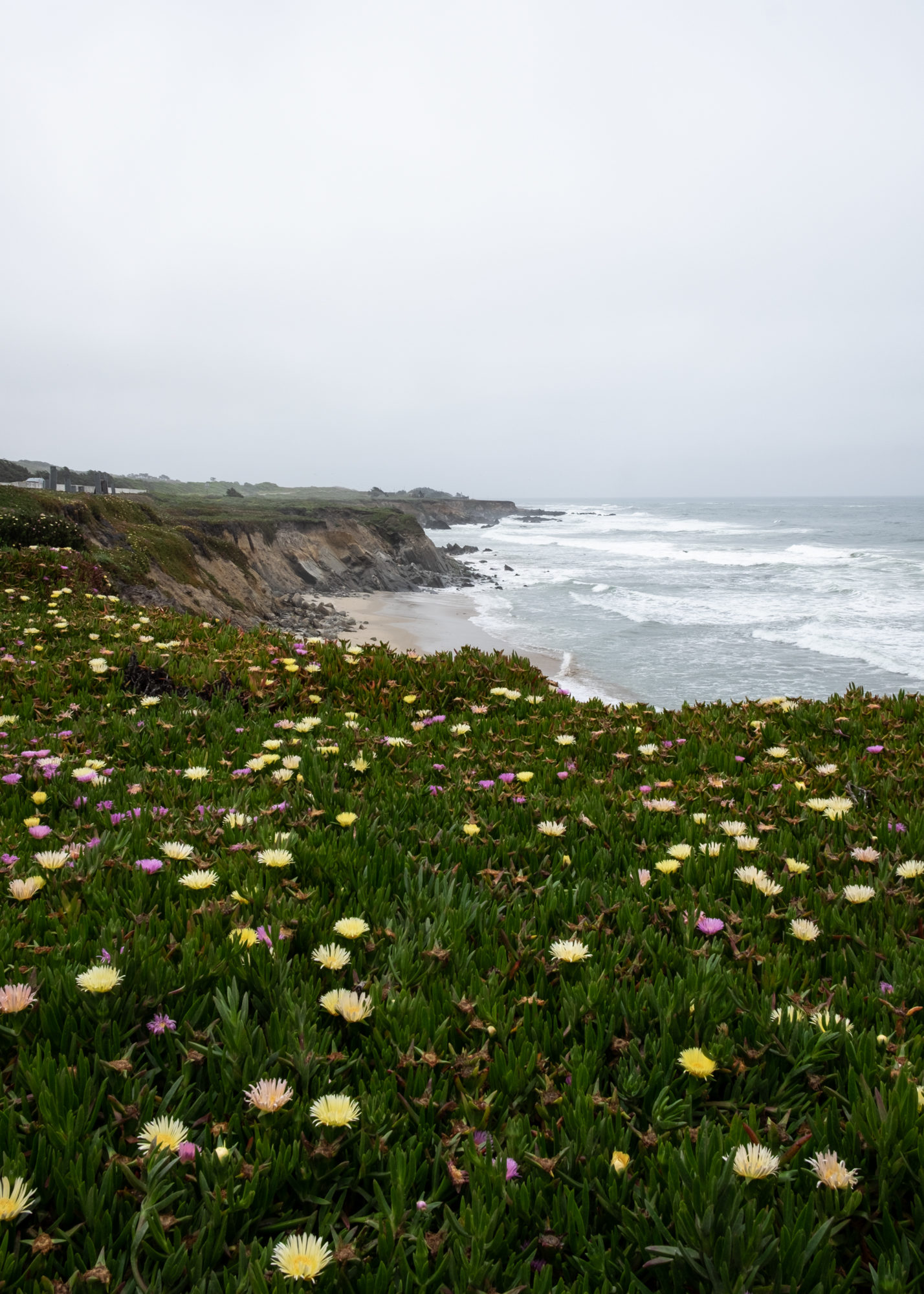 Now, to the beach!
With provisions in tote, drive south on Highway 1  to Bean Hollow State Beach. We parked in the second lot of Bean Hollow, called Arroyo del los Frijoles. It is a perfect spot for picnicking in the sand; tucked into the dunes and sheltered from the ocean winds.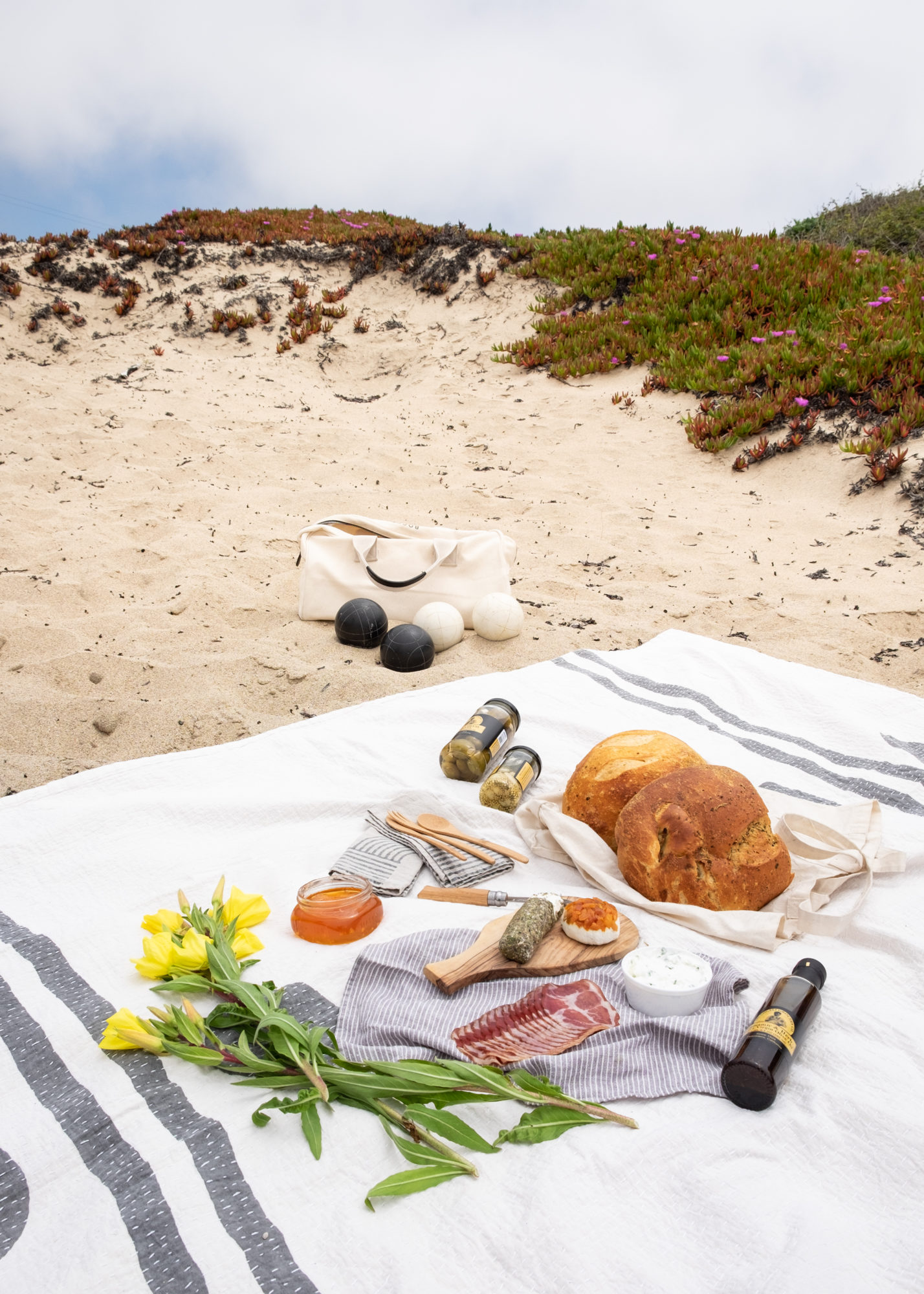 What to pack:

grocery list:
Arcangeli Grocery Co. Artichoke Garlic Herb Loaf
Arcangeli Grocery Co. Balsamic and Herb Dipping Oil
Arcangeli Grocery Co. Artichoke Pesto
Prosciutto, for the meat eaters
Harley Farms Habanero Jelly
Harley Farms Garlic Herb Fromage Blanc
A mason jar of Harley Farms Lavender Lemonade, to split
And If you're really hungry:
Arcangeli Grocery Co. Garlic Herb Sourdough
Arcangeli Grocery Co. Feta Cheese Olives
Arcangeli Grocery Co. Dill Marinated Garlic
Arcangeli Grocery Co. Sweet Winter Pickles
Harley Farms Herb de Provence Chèvre
Harley Farms Apricot and Pistachio Round
Duarte's Olallieberry Pie
other places to consider for a trip well spent:
I hope you'll go eat a loaf of artichoke bread for me. Anything to add? Places to go, food to eat? Share below!
The series Date Night Oversight is a way to honor all the fun things Max and I do together (even if it doesn't count as a date night).