After a whirlwind trip to Maine, Max and I returned to California and are settling back into our daily routine. But there is one thing that has made this transition all the more easier: our new dining table from Vermont Farm Table!
For those of you that have just started following along, we purchased a seasonal home in Maine but live full-time in California. This past May, we began renting a hillside home in the hills of Carmel Valley. When we moved in, our old dining table was much too large for the designated dining area. Thankfully, Vermont Farm Table was interested in working with me to build one that would suit our space. 
I detailed our selection process in my previous post and many of you favored the Hunter table. I don't blame you! Its classic design is charming and I love that their ready-to-ship pieces come flat packed, allowing for easy assembly, or convenient disassembly (perfect for someone like me that has a habit of moving frequently). But the narrow layout of our home made me weary to introduce another rectangular element. While the feedback definitely made me reconsider the Hunter, I am so happy we went forward with the Dairy Table Round!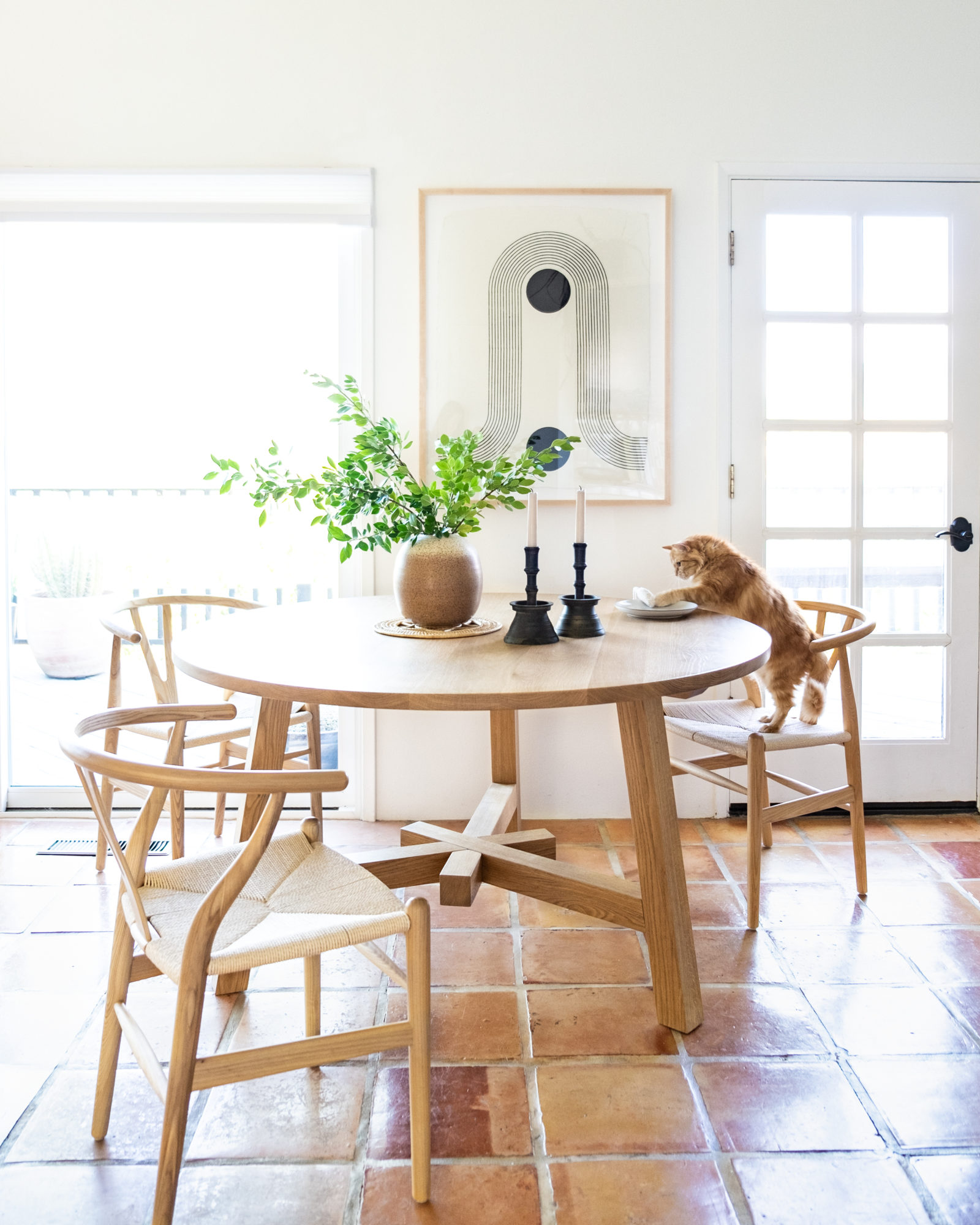 Since we went with a custom built piece, it arrived via white glove delivery. And the service was stellar. Not only was the team communicative (calling to set up the delivery appointment, actually circling back when they told me they would, giving me the 30 minute heads up day-of after I completely forgot about said appointment) they were also professional and dare I say it: capable. The team carefully guided it up our long driveway that is canopied by oak trees meaning the delivery truck had to be parked roadside. They then navigated steps, a gate, a narrow winding walkway, and more steps before reaching our front door. In a matter of minutes they had the tabletop attached to the base, made sure it was exactly where I wanted it, and out they went. 
The table is solid (which further shows how great the delivery service was — this thing is heavy!) and while Vermont Farm Table does a great job capturing the craftsmanship of each piece, in person it exceeded my expectations. Their team is creating a tactile experience and until you feel the weight and substance of the table, it's hard to fully capture the quality at hand. The joinery at the base feels unique yet timeless. I admire the unexpected details like the preserved wood burl that adds to the charm of the white oak table. 
Vermont Farm Table not only offers the piece in standard sizes (48", 60", and 72") but their talented team can also accommodate custom size requests. For our space, they crafted a 54" diameter. The custom size maximizes our square footage and allows us to comfortably seat six people while still feeling intimate for when its just Max and I (ok, and our cat, Lorelei) sitting down for a meal.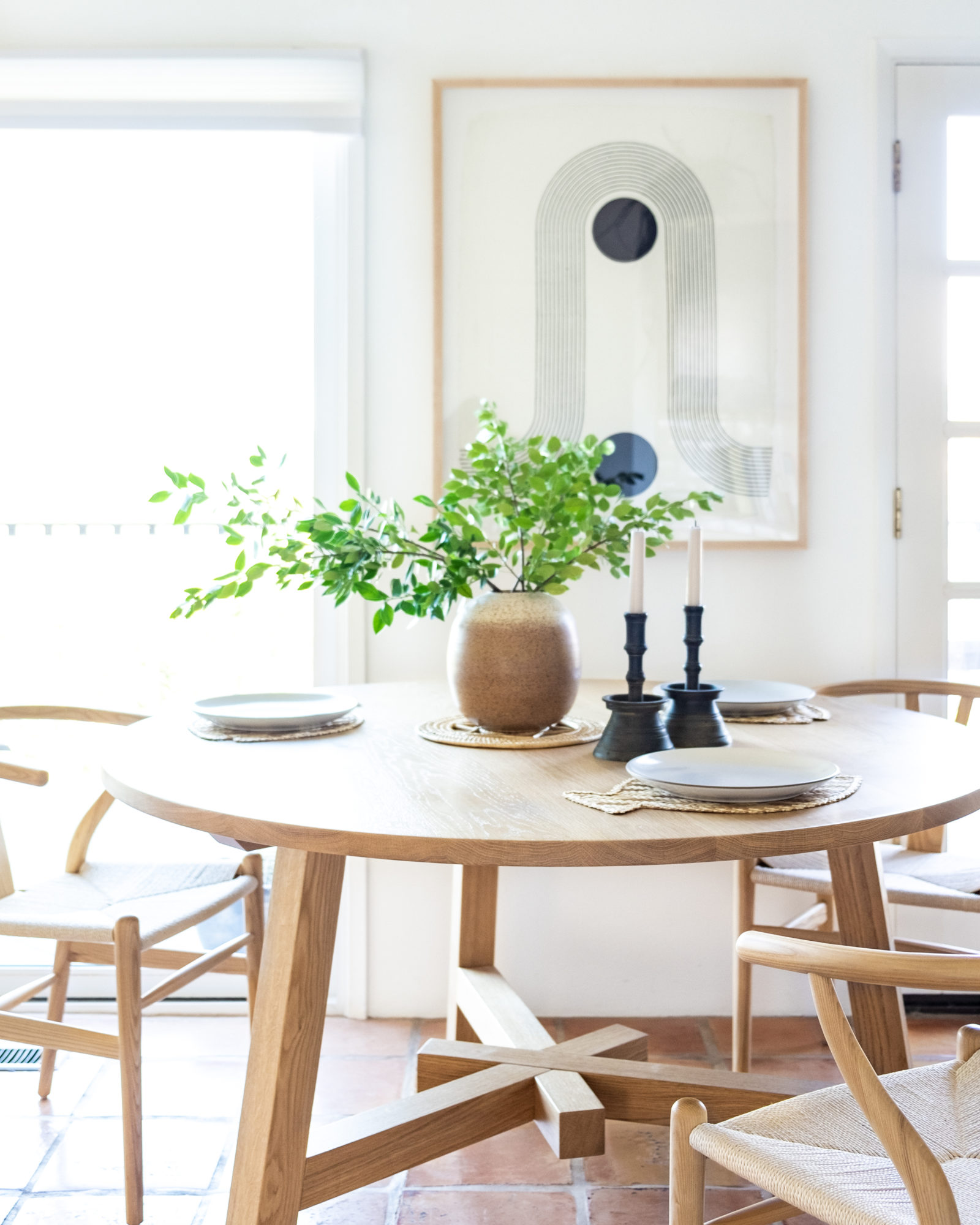 I love this quote by founders Jess and Dustin Glasscoe that "we use solid wood that's been responsibly sourced. We build for now, and years from now. Longevity is a Vermont way of life that, feels like common sense. A good family table is going to take a beating. That's okay; we design and build for practicality." It perfectly sums up how I feel about my home state and the integrity of the business the Glasscoe's have created. Max and I can't wait to share meals with our friends and family at our new table. There will be epic cheese boards and board game marathons, plenty of good food, and the occasional pitter patter or our cat Lorelei who finds the easiest way to take her seat is by crossing over the tabletop. Let's hope our children don't take after her, but if they do, I'm confident this table can withstand the vigor of everyday life.  
Promo Code: The kind folks at Vermont Farm Table are offering a 15% discount on tables, seating, and kitchen goods (yes — they even craft gorgeous cutting boards, bowls, and serving trays!) now through Wednesday, September 18th. Enter code "HARVEST15" during checkout. And although its currently 98 degrees in California, Thanksgiving will be here before we know it! 
This post was created in partnership with Vermont Farm Table, a small and dedicated company I am proud to work with. Thanks for supporting the brands that support me!